If you hit any high-street department store then it can be difficult to avoid spending the equivalent of your month's rent of various beautifying lotions and potions that promise to make us more radiant and lovely than ever. While many of the best beauty products do come with a hefty price tag, it is still possible to find some great beauty products at even greater prices. Here at Lipstick and Love, we have a keen eye for a bargain and that comes to when we are on the search for beauty products too. Here in the UK we have a lot of choice when it comes to where we buy our make-up from high-street chemists to online and even fashion stores, so it is always worth keeping an eye out for useful beauty products that have tiny price tags. Read on to find out about a few of our favourite bargain beauty buys.
MUA Colour Correcting Powder
The Make UP Academy brand may be budget, but it does boast some absolutely fantastic bargain buys including the all-singing and all-dancing colour correcting powder. Known as Prime & Conceal Powder, this low-key make-up item with its understated and chic compact shape is a great addition for your make-up bag, and only costs £4! We all know that the right colour can negate another and when we have dark bags, red patches, spots and more, then a colour correcting powder can hide these imperfections without being too heavy or cloying on your skin. You can wear this as a primer or on its own, and we recommend that for a natural healthy glow that lets your own skin's beauty shine though, that you wear it just on its own for a barely there look that will give you oodles of confidence. The entire MUA range is pretty bargainous, so it is well worth checking out, especially since none of their products are tested on animals!
Poundand Brushes
We have all seen and all coveted those ridiculously beautiful make-up brushes that can easily cost £100 plus, but unless you are a pro make-up artist, there is really no need to splash out on such pricy brushes, especially when you probably won't even use them all! For a brush kit that is perfect for travelling and for throwing in your handbag when you are on the go, then why not check out some at Poundland. You can easily assemble your own set of brushes at a minimal price that you can wash and use, secure in the knowledge that they didn't cost more than your make-up!
Barry M Nail Polish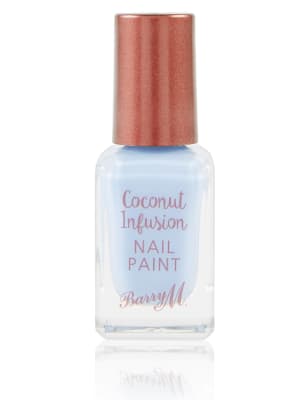 The Barry M brand is known for its glittery and sparkly make-up products that are perfect for big nights out and for special occasions, but they also boast a fantastic nail polish range too in beautiful colours. At the moment we absolutely love their Coconut Infusion range with its pretty pastel shades that hydrate and nourish the nail whilst still giving a glossy and gel-like effect to the nail almost like a manicure. The shade shown is called Blue Laguna, but there are some equally gorgeous shades available too and at only £5 each, you can afford to get more than one!